---
Page content
THE FUTURE BEGINS NOW

Digital economy meets public administration


SCCON 2021 launches a Special Edition
Bitkom and Messe Berlin have jointly decided to postpone the Smart Country Convention next autumn due to the current developments surrounding the COVID-19 pandemic and the situation that is unfortunately difficult to predict as a result. The Smart Country Convention will now take place from 18 – 20 October 2022.
The decision to postpone this year's Smart Country Convention was very difficult for us, but the imponderable situation, the difficult-to-calculate risk and above all the feedback from the market players have led us to this decision. You can find here the online stand registration for the SCCON 2022 scheduled for end of October 2021.
The digitalisation of state and administration and the development of smart cities and regions are too important to be postponed as well. To keep you in touch with the public sector and help shape the political agenda this year, we are once again holding the purely virtual SCCON Special Edition on 26 and 27 October 2021. More range, more visibility: Become a Digital Partner for the Special Edition 2021!
SCCON VIRTUAL & INTERACTIVE
You want to position your company, provide a speaker or present innovations?
Book your digital partner package now to participate in exciting panels and reach the audience of SCCON21 digital.
Take advantage of the many opportunities: We bring your presence into the virtual world!
A modern public administration and smart urban development concepts are the most important future topics of our time. The answers to many questions which digitization raises for the federal state, public administration and society are innovative technology solutions for public services and social security.
In addition to the already known topics like the implementation of the online access act, the innovative procurement, it security and -consolidation as well as digital sovereignty in 2021 we will concentrate even more on open data, data strategy, gaia-x and the cloud in administration. In the smart city & smart region area, we will have a strong focus on digital education and communal practice in 2021.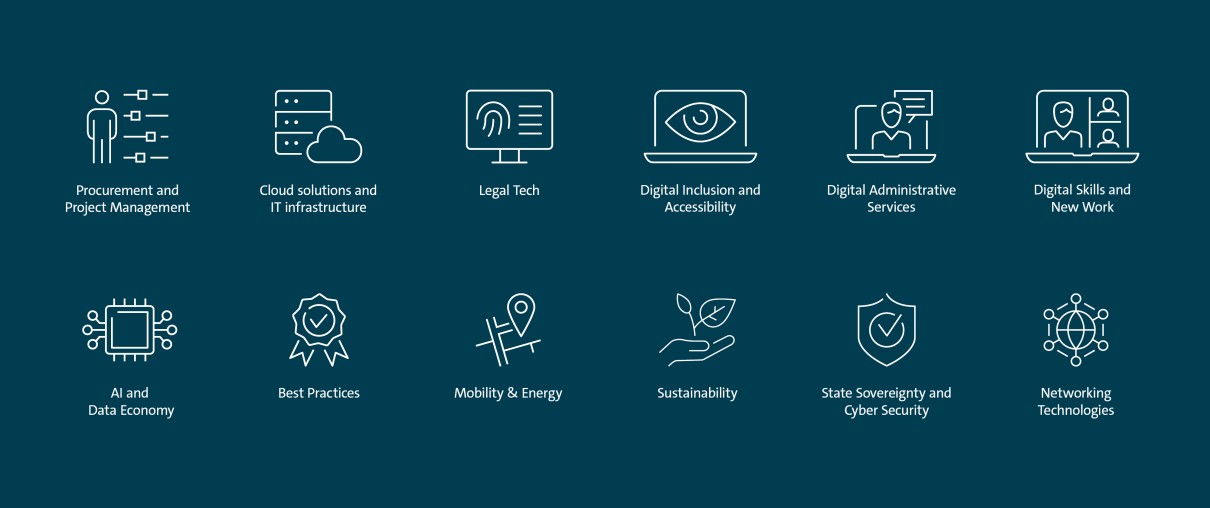 Inspiration. Business. Solutions.
SCCON TEAM
You have any questions? We will be happy to assist you!
T +49 30 3038 2300
Subscribe to our newsletter.
We will keep you up to date with developments of the Smart Country Convention.